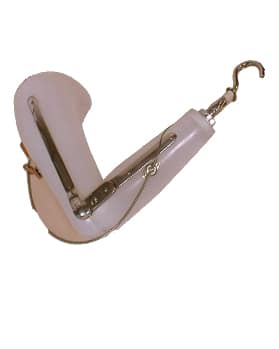 This type of prosthesis is intended for users who would like to be independent when performing everyday activities or able to perform demanding physical tasks. It is also compatible with holding and using specific objects.
A quick-fit connector at the wrist lets the user swap the functional hand replacement for a cosmetic hand or for one of various terminal devices designed to perform a specific activity. These terminal devices may be off-the-shelf, or customized tocarry out a particular task:
Adaptation for cutlery
Adaptation for musical instruments
Adaptation for sports (cycling, body building, etc.)
Adaptation for a professional tool
The opening and closing of the hand or terminal device, the flexion of the forearm and the locking/unlocking of the elbow are actuated directly by a system of pull-and-release cables in "body-powered" devices, or alternatively by the user's other hand.
After a suitable period of rehabilitation, this prosthesis lets the user regain a certain degree of independence in their active or working life.
This type of functional prosthesis weighs less than a myoelectric prosthesis.
The user must provide day-to-day care of the prosthesis in accordance with the instructions for use provided by the prosthetist. The user should arrange to see a prosthetist once a year for a general review and for servicing and maintaining the prosthesis. If users have any questions about the device they should not hesitate to contact their prosthetist or physician.